e-BOX SETS
---
The ABC of PHOSPHENIC MIXING applied to EDUCATION Box Set


SUCCEED IN YOUR STUDIES, EXAMS, PROJECTS.
Optimize your abilities and improve your performances by using the extraordinary energy of phosphenes.
This e-Box Set (method) includes:
A Course on audio mp3:
Course and practical exercises for Phosphenic
Mixing on audio mp3

A Book, "The ABC of Phosphenic Mixing" in PDF format:
This book in PDF format can be consulted using your computer (PC or Mac). It will explain in detail how to practice this amazing technique.
It has numerous applications, for example:
Light as a source of well-being and a natural stimulant - The structuring of ideas - The techniques of learning, concentration and reasoning - Failure at school is not a fatality – The use of Phosphenic Mixing in overcoming problems in spelling, dyslexia, and other spelling-related problems - How to considerably improve your chances of passing exams – Rhythm, the secret of success.
Ref.: CMF_i
version FOR DOWNLOAD (course in mp3 format + PDF book compatible Mac/PC)
To be used with the "PHOSPHENIC POCKET LAMP"
or "Dr LEFEBURE'S PHOSPHENIC LAMP"
PHOSPHENIC ENERGY Box Set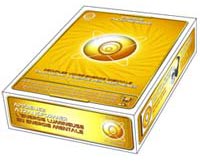 INCREASE YOUR MENTAL ENERGY TENFOLD
Initiatory course of Phosphenism.
This e-box set contains:
An Initiatory course of Phosphenism with practical exercises on two audio mp3:
This e-box set will allow you to carry out practical experiences, at home, at your own rhythm. This course is a veritable 'teacher' at home and it will progressively guide you in the discovery of the marvellous world of phosphenes and their vast fields of application. This box set will reveal to you the clear, simple and practical aspects of Phosphenological science and it will teach you how to transform light energy into mental energy.

The first course in this pack is on Phosphenic Mixing. The second one is a course on the basics of the head sways.
Ref.: i-CEP
Download version (audio course in mp3 format)
SYNCHROPHONY CD Box Set
THE FIRST NEURO-SYNCHRONIZER
on audio tracks
This program includes the basic settings of the Alternophone, for education and individual development, and it is ideal for persons who wish to have a practical approach to the principles of Alternophony.
This e-box set contains:
A 70 minute audio mp3 with 7 tracks.
Track 1: for writing and composition, memory, stimulating imagination, making decisions.
Track 2: for improving the personality, self-control, eliminating stress and overcoming fears.
Track 3: for studying mathematics, science, foreign languages.
Track 4: for reading, studying and memorizing texts.
Track 5: for developing optimism and Hyper-Relaxation.
Track 6: for improving sleep.
Track 7: for reinforcing willpower and motivation. For getting rid of bad habits (tobacco, alcohol, drug problems…)
+ An instruction manual.
Ref.: CNEU_i
For download (7 tracks in mp3 format + manual in pdf, Mac/PC compatible)