EINFÜHRUNG IN DEN PHOSPHENISMUS
---
Dear Web user,
Before discovering the masterworks of Doctor LEFEBURE, we invite you to download FOR FREE "PHOSPHENIC ENERGY UNIVERSE" below.
You will be able to read it at a later date, once you are offline, to fully appreciate its contents.
After you have downloaded, visit the menus on the left starting with the first one "PHOSPHENIC MIXING APPLIED TO EDUCATION". Follow the arrows at the bottom of each page for discovering the practice of Phosphenism with the animations.
Good discovery.
ENTDECKEN SIE DIE WELT DER PHOSPHENENRGIE

Durch KOSTENLOSES Herunterladen von
1 elektronischen Büchern im PDF-Format
ELEKTRONISCHE BÜCHER:Elektronische Bücher (im PDF-Format) sind Bücher, die, wenn Sie sie mit ihrem Drucker ausdrucken und binden oder in einen Ordner heften, wieder ihre « übliche » Buchform annehmen.
Falls Sie mehr darüber wissen möchten:What is an e-book?
For access to the download section, click on an image.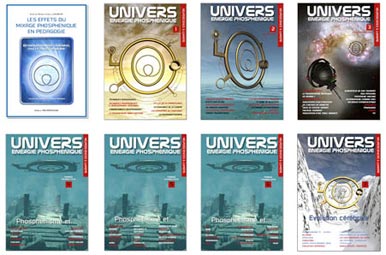 You will also find more than twenty downloads (programmes for training in the practice, rhythmic sounds facilitating the practice, etc.)

And more than 14 animations for understanding the practice better.
UNDERSTANDING THE PRACTICE THANKS TO THE ANIMATIONS
To see all the animations, click on the tabs in the menu on the left of this page, starting with the first one, "
PHOSPHENIC MIXING APPLIED TO EDUCATION
". Then, follow the arrows at the bottom of each page.
---
---
PHOSPHENISME Publishing was created in 1986 to publish the masterworks and discoveries of an exceptional research scientist and an extraordinary man: Dr Lefebure.
The School of Dr LEFEBURE: founded in 1987.
The first center specializing in the teaching of initiatory techniques, it continues Dr Francis Lefebure's research and publishes all the work that he has done since August 1945.
Phosphenism is the diffusion to the general public of a knowledge that used to be confidential and reserved to an elite of initiated individuals.
® Phosphenism is a registered Trade Mark deposed for the books, audio recordings, videos and the educational method